Le Labo continuously welcomes new artists into its family and organizes meetings all year long so that members can gather and benefit from each others experience. These events also act as a meeting point for artists and the public.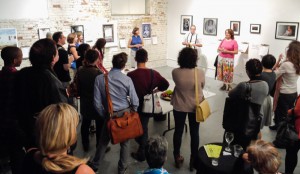 Launch of the new 2013 season. Photo: Claude Martel.
NETWORKING: Le Labo's regularly welcomes new Members into its family and gives the opportunity for all artists involved to meet each other as a way to the benefit of their career and artistic development. Le Labo's events are welcoming occasions to meet with other artists and the general public.
NEWS: As a way of encouraging our members' visibility, our members have the opportunity distribute their news and upcoming events in Le Labo's monthly newsletter and social media.
SUBMISSIONS: Many organizations and individuals submit their projects to Le Labo. We are happy to helpd serve as a first point of entry to professional artists recognized for their expertise. These calls for submissions are exclusive to Le Labo's Members.
MENTORSHIP PROGRAM: Le Labo's Mentorship Program helps Ontario's emerging artists to develop and refine their skills in collaboration with an established artist on a specific theme.
Follow us on our our social media, to get the latest news
Become a member to benefit from numerous opportunities and advantages.