As a Labo PROFESSIONAL or CONNOISSEUR MEMBER, Le Labo's equipment is
available for rent for the  production of independent media arts projects.
IMPORTANT
---
EQUIPMENT RENTAL PROCEDURES
---
WHO CAN RENT LE LABO'S EQUIPMENT?
WHAT EQUIPMENT CAN I RENT AS A MEMBER OF LE LABO?
Le Labo and Charles Street Video (CSV) are partners and share the same online equipment booking system, which you can access from this link (or directly from CSV's website, if you are a member).
PROFESSIONAL and CONNOISSEUR Members can rent ALL Labo equipment.
CONNOISSEUR Members can not rent equipment that does not belong to Le Labo.
PROFESSIONAL Members of Le Labo have the option to become members of Charles Street Video for FREE and can therefore rent any of of CSV's equipment. To become a member of CSV, please contact them directly at 416.603.6565.
ALL online equipment reservations MUST be made by the members themselves. You will find all the rental pricing and equipment specifications on our partner Charles Street Video's website under the « RENTALS » and « MOBILE GEAR » menu. Here is a direct link to the equipment rental section on their site : https://charlesstreetvideo.com/production_shooting.php?submenu=rentals
HOW CAN I RENT EQUIPMENT? 
Equipment bookings can be made:
Preferably Online (24h/7): see below for how to proceed.
PLEASE NOTE : ALL online equipment reservations MUST be made by the members for themselves. 
In Person: At equipment space shared between CSV and Le Labo, located at 568 Richmond street W., Monday to Friday from 10 AM – 5 PM.
Phone: by calling 416.603.6564, Monday to Friday 10 AM – 5 PM.
---
ONLINE RESERVATION SYSTEM :
---
You will need a USERNAME and a PASSWORD:
USERNAME: Your first and last name or a 4 digit number
Example : Martin Dupont or ID 5657
PASSWORD: You should have received a password when you have confirmed your membership registration with Le Labo. You can modify this password on the CSV reservation page. PLEASE NOTE : If you forget your password, Le Labo will not be able to retrieve it. If you do not have your password, please contact us at tech@lelabo.ca or call us as 647.352.4411.
Access the online booking website: http://booking.charlesstreetvideo.com/
To login to your account, write your USERNAME in the « MEMBER » field.
Write your PASSWORD in the «PASSWORD » field.
Once you have logged into the site. Go to the section called « BOOKING ». Select the equipment you wish to rent and enter the rental dates and the name of your project.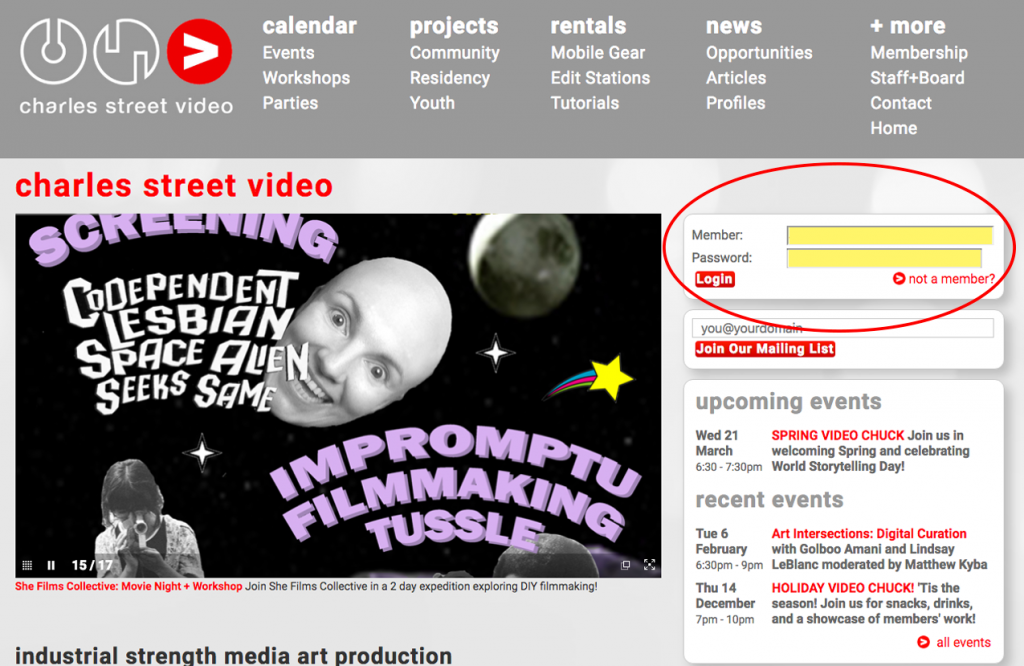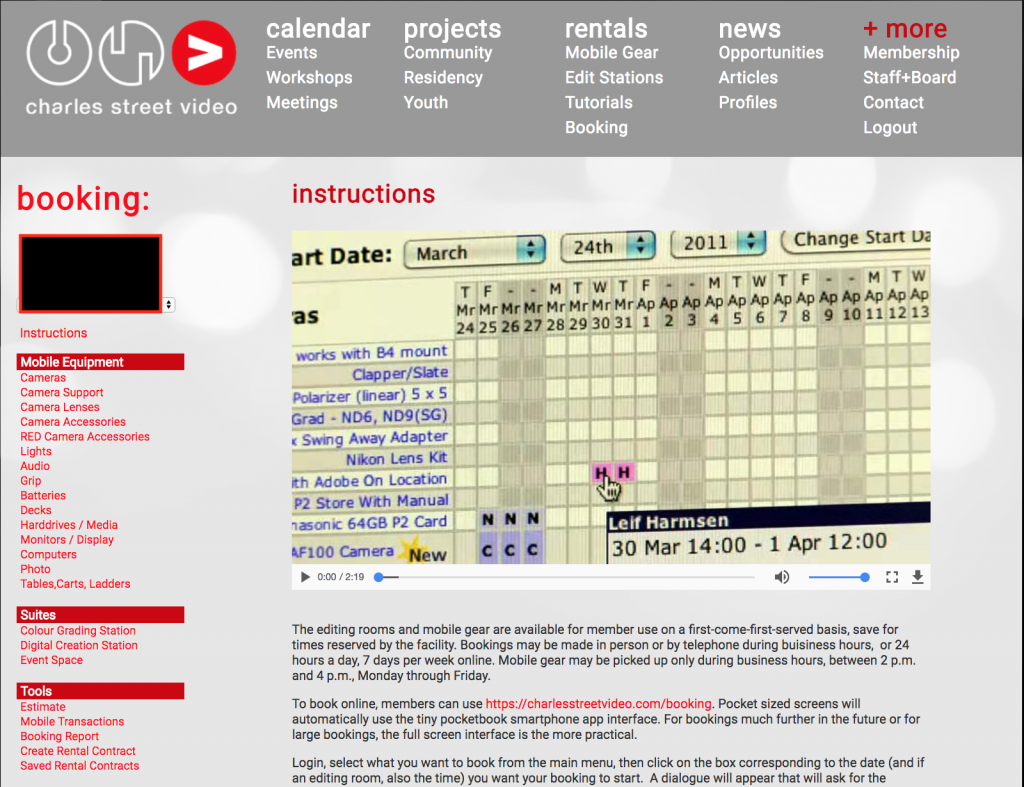 ---
EQUIPMENT PICK-UP AND RETURNS:
Equipment PICK-UP happens Monday-Friday between 2 PM and 4 PM, at the Charles Street Video (CSV) offices located at 568 Richmond street W., Tel: 416.603.6564.
Equipment RETURNS are done at the CSV office Monday-Friday between 10 AM and 12 PM.
Rental Duration Examples:

1 Day Rental: You need equipment for Thursday: you will collect your order the preceding Wednesday afternoon between 2 and 4pm and you will return it the following Friday morning between 10 AM and 12 PM.
Weekends: The end of the week is equivalent to 1,5 days of rental. You will therefore collect your order on the Friday afternoon between 2 PM and 4PM and will return it on the following Monday morning between 10am and 12pm.
Full week: The full week counts for 4 days of rental, with returns expected on the 8th day. For example, you pick up the order on the Monday afternoon and you return it on the Tuesday morning, the following week.
CAN I CANCEL MY BOOKING?
You can cancel your booking on the phone by calling 416.603.6564, Monday to Friday, 10 AM – 5 PM. All cancellations must be made at least 48h prior to the first hour of your booking.
If you do not show up within the first hour of your pick-up time, you will still be charged for the minimum booking.
HOW CAN I PAY FOR MY RENTAL AND WHEN IS PAYMENT EXPECTED?
Payment is made at the time of equipment pick-up :
Credit Card
Interact
Cash
Please note: Cheques are not accepted.
---
EQUIPMENT LIST
Please note that the following equipment list is not complete.
To see the full range of available rental equipment, please go to our shared online booking system at :
https://charlesstreetvideo.com/production_shooting.php?submenu=rentals  
1. IMAGE CAPTURE
PHOTO CAMERAS
VIDEO CAMERAS
Sony FS700UK (Zoom 18 – 200)
GOPRO 4 Black EDITION (4K) with SD 32gb microphone (two cameras available)
GOPRO Hero5 Black Edition Camera
Panasonic HVX200 DVCPro with 4 P2 cards
360° Richoh Theta S Camera (https://theta360.com/en/about/theta/s.html
LENSES
Lens – Canon EF100mm macro f2 8 USM
Lens – Canon ZOOM EF70-200 F2.8L IS II USM
Lens – Canon ZOOM EF-S 18-55mm 1:3. 5-5
Lens – Sony Zeiss FE70-200mm F4 G OSS
Lens – Sony Zeiss MACRO 90mm G OSS f2.8
Lens – Sony Zeiss ZOOM FE16-35mm F4
Lens – Sony Zeiss ZOOM FE24-70mm F4
Lens Adaptor  – Metabones Canon EF to Sony E
MONITORS/ DISPLAY

Video accessory – Atomos Shogun Recorder Kit (4K)
Media Player – WD TV
TRIPOD / MEMORY / GRIP GEAR
Manfrotto Video Tripod – 504 HD Kit with Bag
Manfrotto Photo Tripod (TR190X, 804RC2)
Cameron Tripod / T200BH w/ ballhead
SDXC 64GB Card (Suitable for 4K recording)
Manfrotto 033B – Autopole Extension
Manfrotto 032B – Autopole Extension

Folding Chairs (6 x black)
Dolly
Folding Table (4ft x 2ft)
Folding Table (6ft x 30in) 
---
2. SOUND AND LIGHTING
---
3.

HARDWARE
Arduino Kit

Available on demand. Please contact the office on 647.352.4411.
NOTE:  The whole Arduino kit must be returned to Le Labo. $60 will be charged for a non returned or incomplete kit.
---