LABO-RÉSEAU : THE LABO'S NETWORKING EVENT !
MEMBERS ONLY EVENT.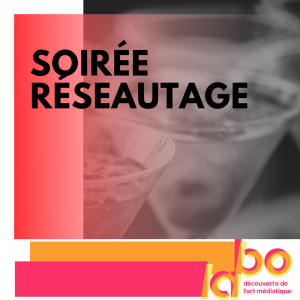 The aim of this networking evening is to create links, federate the Lab community in a friendly way over a drink and contribute to the development of the contact network of our members by inviting them to meet.
Schedule :
Networking Sessions
Entertainment and special guests
Unique encounters
Cocktails
Do you want to live our networking experience?
For any information, please send us an email : info@lelabo.ca

---
Because the LaboRéso is also a space for dissemination and exchange, for this networking evening, Le Labo is looking for professional members wishing to present their work in media arts.

The selected Member will present his work, which animates and (a) motivates him in his journey. Lab-onetwork, a privileged, friendly and informal moment, which offers unique opportunities, to share ideas and projects between members.
Testimony of Julie Lassonde, current member of Le Labo :

« I thank the Lab for giving me the opportunity to share my work during the » member of the month « event.
It is very rare that I take the time to look back on my artistic career and this evening served as an excuse to do so. I found this process useful to see the themes that have emerged in my work over the years and to guide my future work, through questions from the audience. « 
This kind of highlights interests you and you want to get involved?
Please contact us by emailing us to direction@lelabo.ca.
---
Become a member to benefit of the many opportunities and advantages of Le Labo.
---
Please note that the events organized by Le Labo can show photographs and videos. These images can be used by Le Labo for promotional, advertising and educational purposes.
By participating in our events, you agree to allow Le Labo to use your image and your likeness. However, if you do not want us to use a photo or video of you or your child, please let us know when you arrive at the event.
You can also contact Le Labo's marketing and communication office: com@lelabo.ca