At Le Labo, a centre for Francophone media arts in Toronto, we offer programs that meet the expectations of our members.
To best respond to this, we are offering two mentoring programs for this year:
1- Documentary filmmaking program
2- Mid-career professional program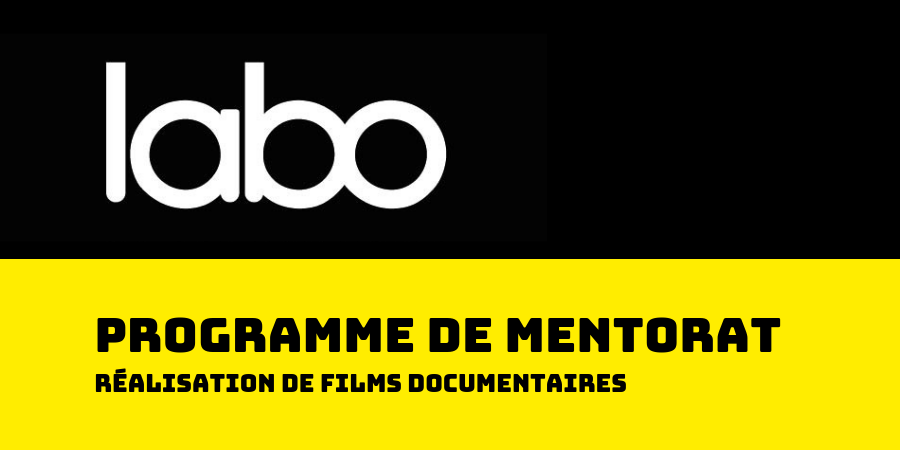 MENTORING PROGRAM – PRODUCTION OF DOCUMENTARY FILMS.
The first is a documentary mentoring program, which will initiate four emerging Francophone artists, newly arrived in Toronto and coming from cultural diversity.
The objective of this program is to train an artistic succession that better represents the population whose common denominator is the Francophonie, and thus to solidify the career of learners.
Participants will benefit from professional support in the research, development and production of a documentary film of short or medium length. In addition, they will have access to Le Labo's professional network, which not only includes the French-speaking community, but which maintains solid ties with the Toronto English-speaking artistic community.

BENEFITS OF THE PROGRAM
• Professional support for the duration of the program;
• professional membership in Le Labo valid for one year;
• free access to equipment rental (maximum rental value of $2,000);
• accommodation and additional costs for creating projects are not covered
• free for selected candidates / Participants will be sponsored by members and the Le Labo community

COHORT 2019/2020

Jean-Christophe FOOLCHAND
Guillaume LORIN
Elvis NOUEMSI NJIKÉ
Michael PROMENEUR
MENTORS 2019/2020
These four artists will be accompanied by four mentors:
JOSIANE BLANC
ALEX LOUKOS
NADINE VALCIN
KATIA CAFÉ-FÉBRISSY
TEASER COHORT 2019/2020
To go further : APPEL À CANDIDATURE – 2019
---
MENTORING PROGRAM – MID CAREER.
With the support of four consultants, we will support eight Franco-Ontarian media artists, established or mid-career, in the development of their marketing. This will include a complete revision of their presentation documents, studio visits, presentations addressing the artists' dissemination objectives, and gallery visits, guided by the experts.
All of this, with a view to a networking trip to Montreal, to meet key players in the contemporary art market, and to help artists advance their careers. The dates of the trip will be determined collectively by the group, according to the cultural calendar, and their particular interests.

COHORT 2019/2020
Marc Audette
Lise Beaudry
Ron Loranger
We would like to thank the Canada Council of the Arts for their support.