At Le Labo, a centre for Francophone media arts in Toronto, we offer programs that meet the expectations of our members.
To best respond to this, we are offering two mentoring programs for this year:
1- Documentary filmmaking program
2- Mid-career professional program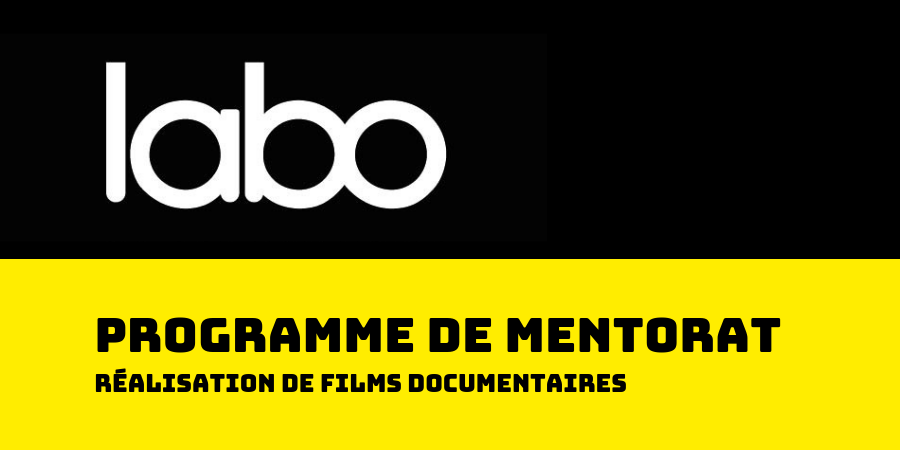 MENTORING PROGRAM – PRODUCTION OF DOCUMENTARY FILMS.
The first is a documentary mentoring program, which will initiate four emerging Francophone artists, newly arrived in Toronto and coming from cultural diversity.
The objective of this program is to train an artistic succession that better represents the population whose common denominator is the Francophonie, and thus to solidify the career of learners.
Participants will benefit from professional support in the research, development and production of a documentary film of short or medium length. In addition, they will have access to Le Labo's professional network, which not only includes the French-speaking community, but which maintains solid ties with the Toronto English-speaking artistic community.

BENEFITS OF THE PROGRAM
• Professional support for the duration of the program;
• professional membership in Le Labo valid for one year;
• free access to equipment rental (maximum rental value of $2,000);
• accommodation and additional costs for creating projects are not covered
• free for selected candidates / Participants will be sponsored by members and the Le Labo community

COHORT 2019/2020

Jean-Christophe FOOLCHAND
Guillaume LORIN
Elvis NOUEMSI NJIKÉ
Michael PROMENEUR
These four artists will be accompanied by four mentors:
Passionate about social issues and meeting others, Josiane Blanc firmly believes in the importance of using the media as a vehicle for change. Her versatility has enabled her to hold a wide range of positions in Canada, Europe, South America and Africa, where she has been fortunate enough to capture the lives of the people she meets. In 2016, she developed and produced a series of short reports for TFO exceptional youth. Selected for the mentorship program of emerging directors of Black Women Film! Canada in 2017, the program of emerging producers of the DOC Institute of Toronto and winner of the NFB Springboard competition in 2018, Josiane is currently working on the development of several documentary projects and fictions to help give voice to some underrepresented groups.
After studying cinema in Paris, Alex Loukos made a creative documentary on the cinematic language of Théo Angelopoulos (author of L'éternité et un jour, Palme d'Or 1998). Later, his short film The Man Next Door, an « Almodovarian » comedy, made its way to festivals and television.
In 2006 he became one of the founding members of Le Labo. Very committed, he explores new tools and participates in emblematic installations by making experimental videos. At the same time, he is also an accomplished editor working on several programs and documentaries broadcast on the antennas of Groupe Média TFO, Radio-Canada, TV5, ARTV or at the NFB. In 2015, his independent documentary feature Sur les traces de Padejo made its public premiere during the Semaine de la francophonie in Toronto with the support of CinéFranco. He is now working on feature film scripts. With his short film « Perils », which is scheduled to be released in fall 2019, Alexandre Loukos rediscovers his passion for cinema and is now developing feature film projects.

Nadine Valcin is an award-winning producer, director and screenwriter. She produces and produces programs, magazines for television, documentaries and cinematographic works which have been broadcast on CBC, CBC News Network, TVO, W, Arte, Réseau de l'Information (RDI), Société Radio-Canada ( SRC), TFO, as well as TV One and the History Network in the United States.
Among her accomplishments for the National Film Board of Canada are the documentaries Black, Bold and Beautiful, A School Without Borders, and Just When Justice Happens. In 2016, his experimental short film Heartbreak was one of 20 finalists from more than 1,700 submissions to the inaugural edition of the Toronto International Film Festival's TIFFxInstagram Shorts Fest. The filmmaker approaches fiction today. She has directed three short films and is currently developing two feature films as well as Ghosts of Memory, a virtual reality experience on the forgotten history of slavery in Canada.
Nadine is the recipient of numerous awards and grants including two Chalmers artistic research grants and the Drama Prize from the National Screen Institute for the bilingual short film Entre deux / In Between. She holds a professional degree in architecture from McGill University and participated in the Doc Lab, Women in the Director's Chair and the National Screen Institute workshops. She was artist-in-residence at Osgoode Law School at York University for the 2015-2016 academic year and the recipient of DGC Ontario Mentorship 2016 – a mentorship program of Women in Film and Television (Toronto) and the Directors Guild of Canada.
Katia Café-Fébrissy is a multidisciplinary media artist based in Toronto.
Having won the Springboards competition from the National Film Board, Katia Café-Fébrissy began her career as a filmmaker with her documentary MES RÉSEAUX ET MOI (2015) broadcast on Radio Canada TV.
Her latest creative documentary, À LA RACINE (2017), won several awards for the best international documentary short film and was part of the official selection of more than a dozen environmental film festivals around the world. —In Europe, Africa, Asia, North America and Australia.
Katia works in film, radio and theatre. Her filmography ranges from documentary film to corporate video, short fiction, web series and videoclips.
She is a member of the Directors Guild of Canada, the Society of Radio, Television and Film Authors.
In addition, Katia is an alumna of Women in the Director's Chair and Director's Lab North.
She holds a Diploma of Higher Studies in Documentary Cinema from Ateliers Varan in Paris and a Masters in Letters and Languages ​​from the University of Paris VIII, France.

CALENDAR
• October 2019: First meetings with mentors
• November 2019 to April 2020: Mentoring and training (research, project planning, financing, budgets, sound recording and filming, video editing, etc.)
• April to August 2020: Filming and editing
• September 2020: Screening of films and public presentation of the program
For more information: http://lelabo.ca/fr/?p=10856

MENTORING PROGRAM – MID CAREER.
With the support of four consultants, we will support eight Franco-Ontarian media artists, established or mid-career, in the development of their marketing. This will include a complete revision of their presentation documents, studio visits, presentations addressing the artists' dissemination objectives, and gallery visits, guided by the experts.
All of this, with a view to a networking trip to Montreal, to meet key players in the contemporary art market, and to help artists advance their careers. The dates of the trip will be determined collectively by the group, according to the cultural calendar, and their particular interests.

COHORT 2019/2020
Marc Audette
Lise Beaudry
Ron Loranger
We would like to thank the Canada Council of the Arts for their support.