JUNE 2017
---
June 18 at 2PM – Presentation by Julie Lassonde for FRANCO FIERTÉ

Julie Lassonde, one of the Labo's Members, will be giving a presentation at Toronto's
Glad Day Bookshop
(499 Church Street) as part of a guided tour of Toronto's Gay Village in conjunction with 
Franco Fierté
 celebrations. Lassonde will be discussing the 150th anniversary of the Confederation and present an overview of LGBT rights in Canada.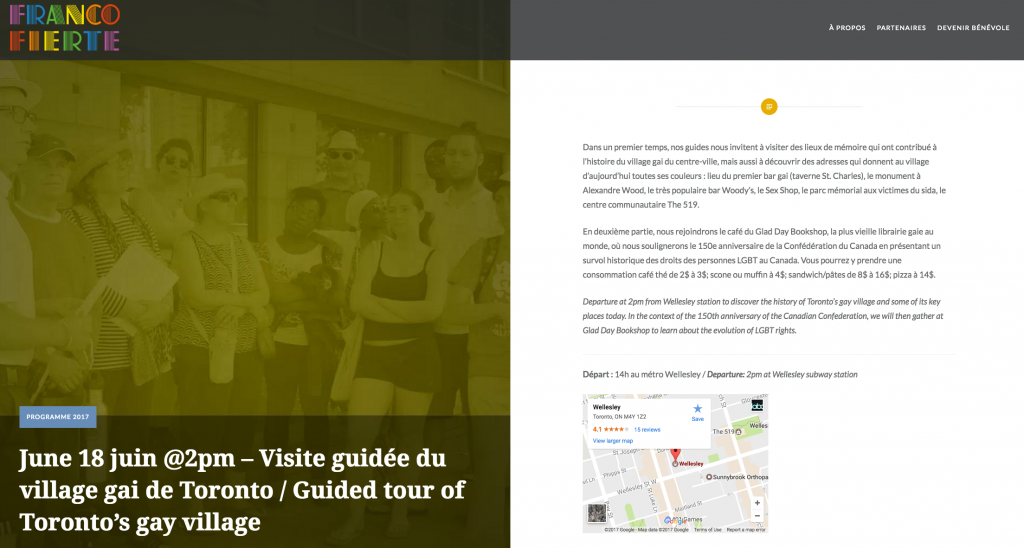 ---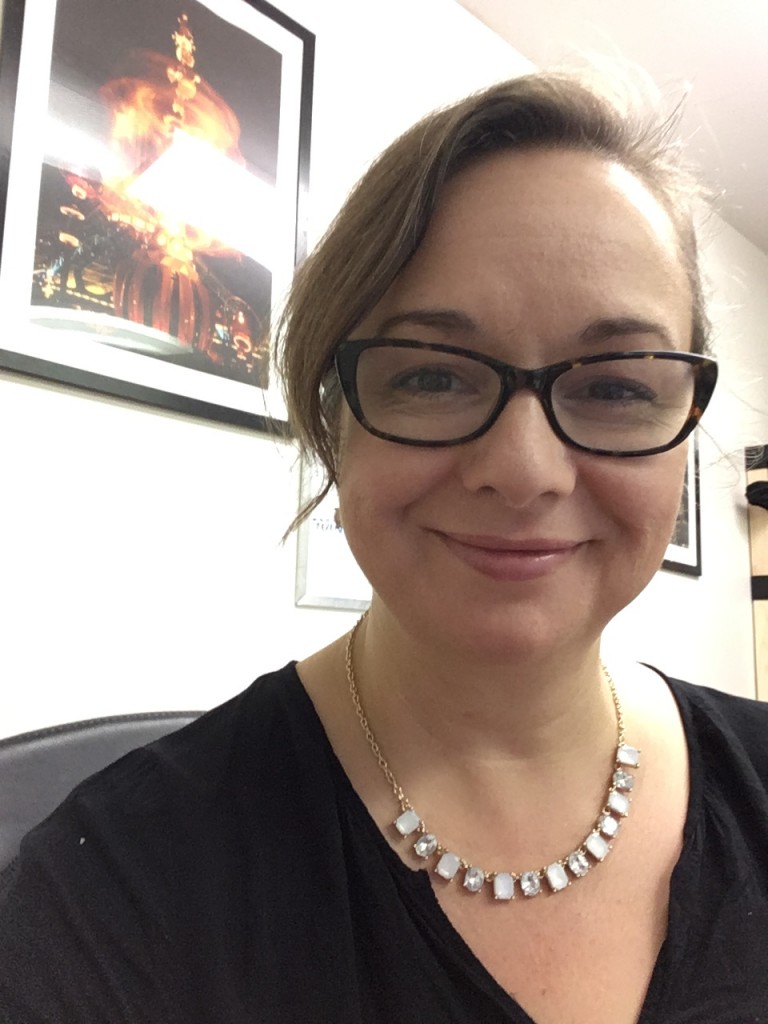 Following a call for applications for the position of Executive Director of Le Labo, we have retained Barbara Gilbert for the role. Barbara is currently Interim Executive Director until June 30, 2017. Her new position will begin, without pause, on July 3, 2017.
Barbara is known as an artist and arts administrator in both the Anglophone and Francophone arts communities in Toronto, and in the province. She has been a member of Le Labo for several years.
Barbara was formerly Executive Director at Le Labo, from 2010 to 2012. She joined the Board of Directors in 2014, initially as Vice-President, then President, and eventually Past President until August 2016. Since December 2016 Barbara has been acting as Interim Executive Director, a period of transition following the departure of former Executive Director Karine Barrass, with great efficiency.
We are very pleased to welcome Barbara back at the helm of Le Labo. Not only does she have significant administrative experience, but more importantly, it is clear she has great affection for Le Labo, its members, and its community. She strongly believes Le Labo has its rightful place in the ecology of the arts sector in Toronto, Ontario, and Canada.
We are delighted that she can continue the good work she has undertaken since the beginning of her work at Le Labo
Claudette Jaiko
President
REVUE DE PRESS

» Barbara Gilbert confirmée à la direction du Labo « , L'Express de Toronto, François Bergeron, 06/07/2017, Vol. 24, numéro 45.
http://l-express.ca/barbara-gilbert-confirmee-a-la-direction-du-labo/
ChoqFM 105,1, Date : 7 juin, diffusion à 8h
Journaliste : Elvis Nouemsi
Interviewé : Barbara Gilbert
http://choqfm.ca/chronique/choq-fm-presente-barbara-gilbert-nouvelle-directrice-labo/?utm_content=buffera4e8f&utm_medium=social&utm_source=twitter.com&utm_campaign=buffer
Y a pas deux matins pareils : Ici Radio-Canada Première : « Culture : les activités estivales du Labo », Date : 8 juin, diffusion à 6 h 35
Journaliste : Francine Ravel
Interviewé : Carolina Reis et Barbara Gilbert
http://ici.rahttp://ici.radio-canada.ca/premiere/emissions/y-a-pas-deux-matins-pareils/episodes/382852/audio-fil-du-jeudi-8-juin-2017/5dio-canada.ca/premiere/emissions/y-a-pas-deux-matins-pareils/episodes/382852/audio-fil-du-jeudi-8-juin-2017/5
---
» Quand un mot innu devient une phrase en français « , L'Express de Toronto, Lila Mouch, May 22 2017, Week of May 23 to 29,
Vol. 42, num. 20. https://l-express.ca/quand-un-mot-innu-devient-une-phrase-en-francais/?utm_content=buffer27231&utm_medium=social&utm_source=twitter.com&utm_campaign=buffer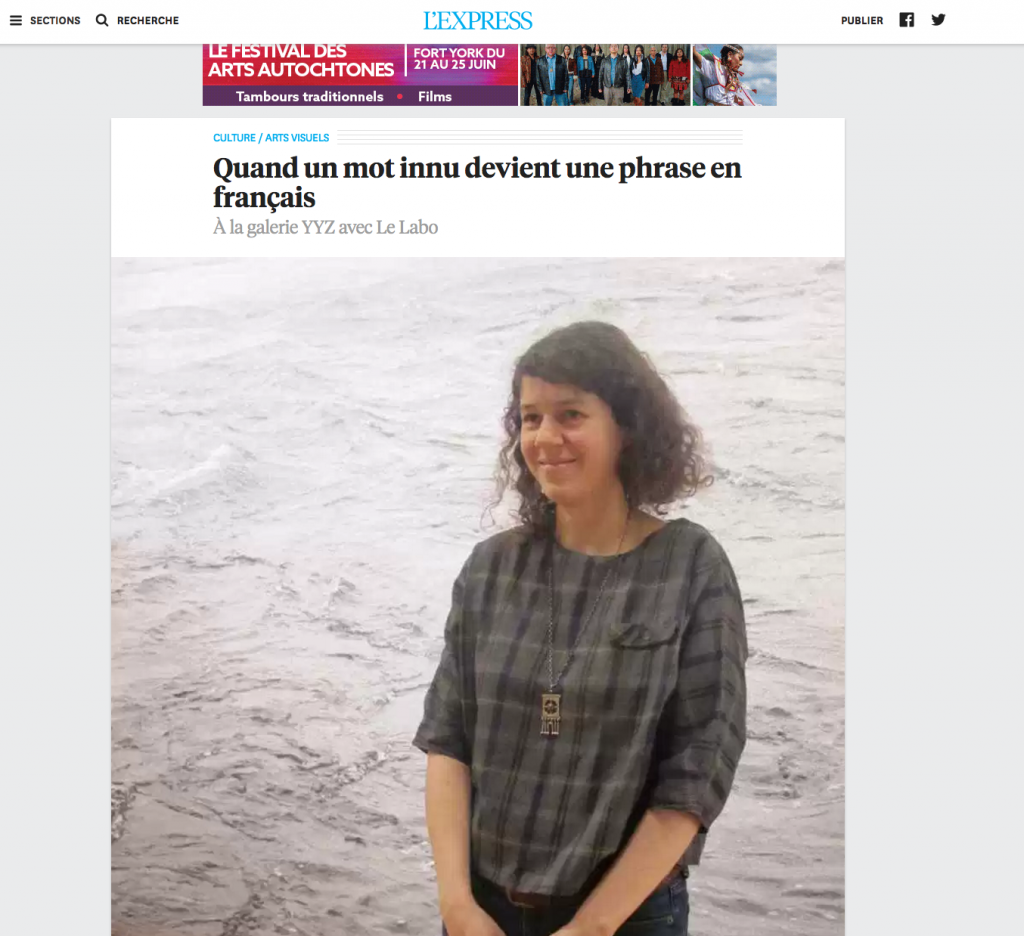 » Exposition AIMINANU : une conversation est en cours » , Le Métropolitain, Quitterie Hervouet,Week of  May 31 to June 6, 2017
Vol. 25, num. 21. http://lemetropolitain.com/exposition-aiminanu-une-conversation-est-en-cours/