NOVEMBER 2017
---

Photo credit: Images from the « Introduction to Photography » Workshop, with Instructor Geneviève Fontaine (Summer 2017)
2018 EDUCATION PROGRAMMING
For the fourth consecutive year, Le Labo is presenting its 2018 Media Arts Workshop curriculum. Our education programming builds on its prior successes and expertise to offer youths unforgettable experiences along with acquiring knowledge that will serve them for life. Our workshops cover all aspects of Media Arts practices and are suitable for all age levels – be it photography, animation, video production or digital creation.
For a detailed description of our workshops, please follow this link to download the complete curriculum:
http://lelabo.ca/fr/wp-content/uploads/sites/2/2017/10/LeLabo-ProgrammeEducatif-2017-18.pdf
Fuelled by a passion for creation and the media arts, Le Labo's educational activities are the product of collaborations with experienced artists who have helped us create a unique and rich curriculum. From the beginning, we worked with artists like Samuel Choisy, Geneviève Thauvette, Zefred or Alex Loukos, who helped formulate and shape our curriculum. Later, our programs were further developed with the expertise of Nacima Genot, Geneviève Fontaine and Nadine Valcin. Since they were established in 2014, more than 450 youths and adults have benefited from Le Labo's educational programs, thanks to funding from the Ontario Trillium Foundation.
In a world where technology is constantly evolving and we are all digitally connected, Le Labo specializes in, not only making digital creation techniques more accessible, but also to better understand the mechanisms of media art. This often entails more than just creating art through a certain medium or machine. Our programs introduce, even to young children, the processes of creation through tactile and palpable experiences. Activities include playing with light, capturing analogue images using handmade pinhole cameras and photograms. As they come to learn the underlying processes of involved in producing photography and video, they are better able to understand and master digital tools.
Our educative mission is to provide youths with ways to master these tools, assert their voice and be involved in building the future. All our workshops are offered to Francophone and French Immersion elementary and secondary schools. Our artist teachers travel between schools and modify each curriculum activity to the students' learning levels. In addition, after two successful years, Le Labo has renewed its partnership with L'Alliance Française, which offers creative programs in French for youths aged 8 to15 for the upcoming 2018 March and Summer breaks.
Le Labo continues to be a hub for disseminating media arts and digital creation by offering customized training outside of its regular arts programming. Le Labo's team and its artists will continue to invest in perfecting its educative activities and continue to instill their passion for the arts as a way to support the creations of local talent.
For a detailed list of available workshops, please visit our website:
http://lelabo.ca/en/workshops/edu/
– 30 –
Contact: Carolina Reis – info@lelabo.ca – 647.352.4411
---
Le Labo has found a permanent home in the heart of the city!

After four years of nomadic existence, Le Labo has finally found a permanent home. As of December 2017, we will be located in Studio 277, 401 Richmond West in Toronto.
We are very pleased to announce that we will be able to offer our members and Toronto's Francophone community a creative and exhibition space for artists, film screenings, collaborations and experimentation. Le Labo will once again have its own creative laboratory!
The 401 Richmond building is an established creative and cultural hub that is filled with artist-run centres, art galleries, non-profit organizations and various professional associations. Some of the organizations housed in the building have already been our creative partners, namely the IMAGES Festival and YYZ Artists Outlet. In addition to our studio space, the 401 Richmond building offers us access to meeting rooms, shared workspaces and a rooftop patio.
---
JUNE 2017
---
June 18 at 2PM – Presentation by Julie Lassonde for FRANCO FIERTÉ

Julie Lassonde, one of the Labo's Members, will be giving a presentation at Toronto's
Glad Day Bookshop
(499 Church Street) as part of a guided tour of Toronto's Gay Village in conjunction with 
Franco Fierté
 celebrations. Lassonde will be discussing the 150th anniversary of the Confederation and present an overview of LGBT rights in Canada. Find out more about it here: 
 http://www.francofierte.ca/2017/june-18-juin/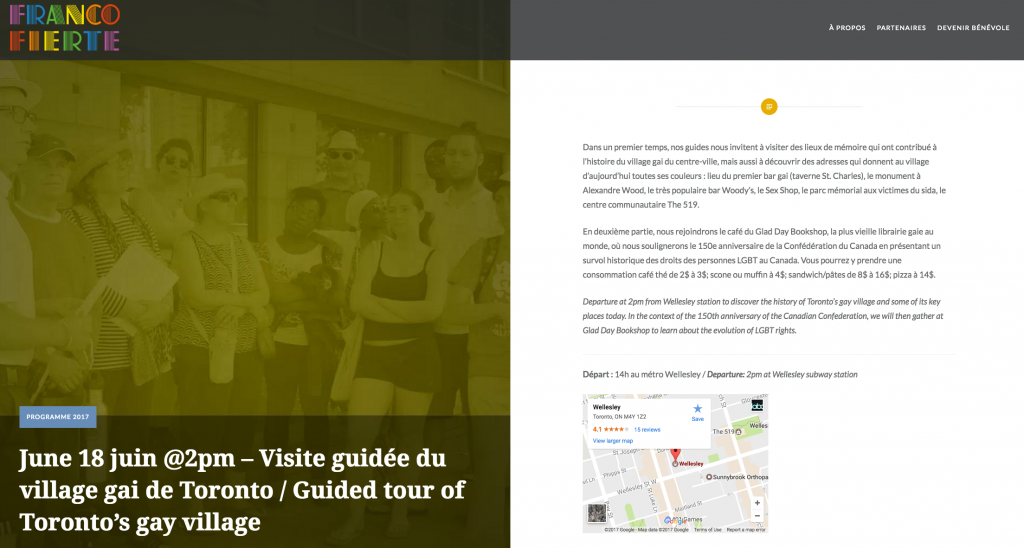 ---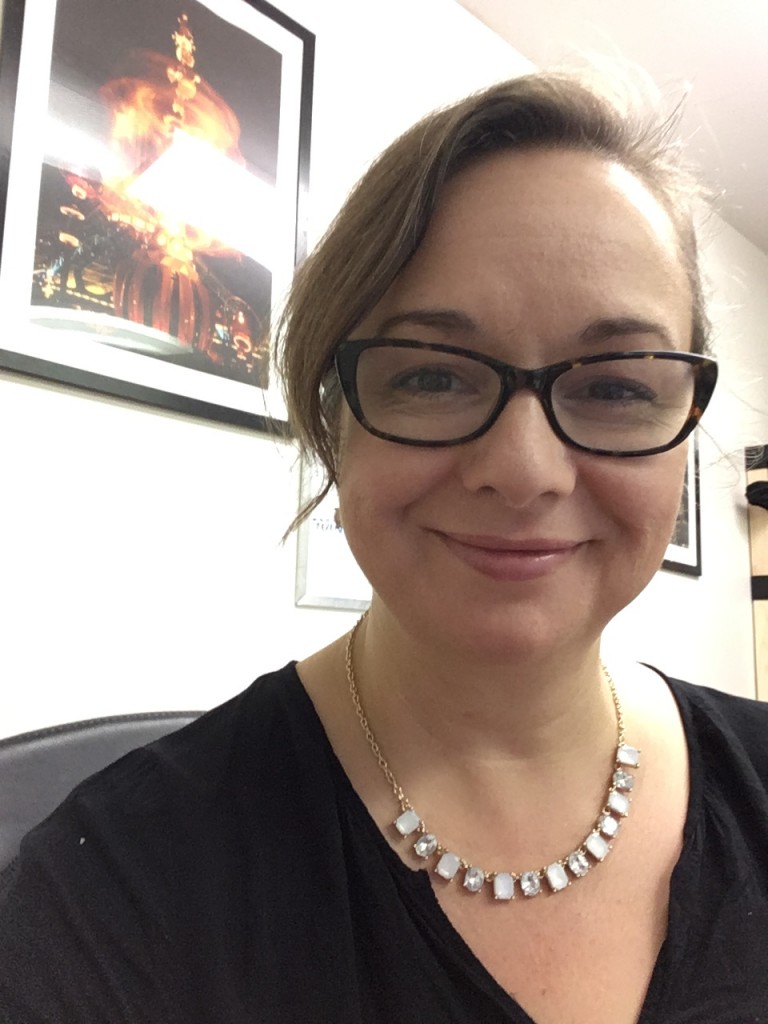 Following a call for applications for the position of Executive Director of Le Labo, we have retained Barbara Gilbert for the role. Barbara is currently Interim Executive Director until June 30, 2017. Her new position will begin, without pause, on July 3, 2017.
Barbara is known as an artist and arts administrator in both the Anglophone and Francophone arts communities in Toronto, and in the province. She has been a member of Le Labo for several years.
Barbara was formerly Executive Director at Le Labo, from 2010 to 2012. She joined the Board of Directors in 2014, initially as Vice-President, then President, and eventually Past President until August 2016. Since December 2016 Barbara has been acting as Interim Executive Director, a period of transition following the departure of former Executive Director Karine Barrass, with great efficiency.
We are very pleased to welcome Barbara back at the helm of Le Labo. Not only does she have significant administrative experience, but more importantly, it is clear she has great affection for Le Labo, its members, and its community. She strongly believes Le Labo has its rightful place in the ecology of the arts sector in Toronto, Ontario, and Canada.
We are delighted that she can continue the good work she has undertaken since the beginning of her work at Le Labo
Claudette Jaiko
Presidente du Labo
REVUE DE PRESS

» Barbara Gilbert confirmée à la direction du Labo « , L'Express de Toronto, François Bergeron, 06/07/2017, Vol. 24, numéro 45.
http://l-express.ca/barbara-gilbert-confirmee-a-la-direction-du-labo/
ChoqFM 105,1, Date : 7 juin, diffusion à 8h
Journaliste : Elvis Nouemsi
Interviewé : Barbara Gilbert
http://choqfm.ca/chronique/choq-fm-presente-barbara-gilbert-nouvelle-directrice-labo/?utm_content=buffera4e8f&utm_medium=social&utm_source=twitter.com&utm_campaign=buffer
Y a pas deux matins pareils : Ici Radio-Canada Première : « Culture : les activités estivales du Labo », Date : 8 juin, diffusion à 6 h 35
Journaliste : Francine Ravel
Interviewé : Carolina Reis et Barbara Gilbert
http://ici.rahttp://ici.radio-canada.ca/premiere/emissions/y-a-pas-deux-matins-pareils/episodes/382852/audio-fil-du-jeudi-8-juin-2017/5dio-canada.ca/premiere/emissions/y-a-pas-deux-matins-pareils/episodes/382852/audio-fil-du-jeudi-8-juin-2017/5
---
Co-presentation by Le Labo and YYZ Artist Outlet
French Artist Talk with Anne-Marie Proulx for her exhibition AIMINANU at YYZ Artist Outlet – Saturday May 13, 2017 at 2PM  
Quand un mot Innu devient une phrase en français, L'Express de Toronto, Lila Mouch, May 22 2017, Week of May 23 to 29,
Vol. 42, num. 20. https://l-express.ca/quand-un-mot-innu-devient-une-phrase-en-francais/?utm_content=buffer27231&utm_medium=social&utm_source=twitter.com&utm_campaign=buffer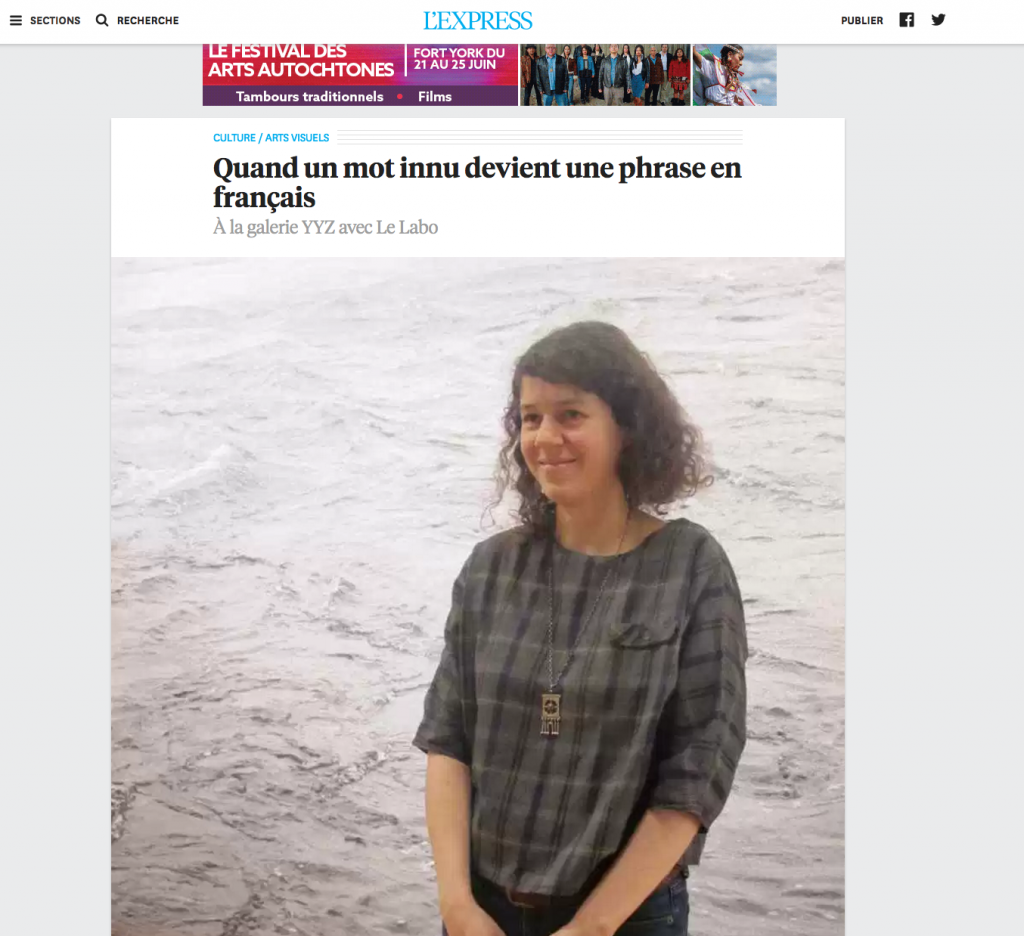 Exposition AIMINANU : une conversation est en cours, Le Métropolitain, Quitterie Hervouet,Week of  May 31 to June 6, 2017
Vol. 25, num. 21. http://lemetropolitain.com/exposition-aiminanu-une-conversation-est-en-cours/