Comissioned by Stephan St Laurent
Off Season is a paper-based exhibition unveiled to the public at Le Labo in December 2021 that explores the delicate but insatiable ties that bind us to nature and community, even in the face of a global pandemic. Highlighting the work of eight leading francophone artists from Ontario and Canada, curator and artist Stefan St-Laurent travels a rugged terrain, during an endless season of suspended activity.
Artists :
Marc Audette, Lise Beaudry, Samuel Choisy, Martine Côté, Jacquelyn Hébert, Maria Legault, Ron Loranger et Geneviève Thauvette
But what is an exhibition on paper exactly ?
An exhibition on paper is another way to share art!
Indeed, because of the current conditions you know, it is difficult for artists and public to reconnect in exhibitions, openings and conferences organized by artist centers, galleries, museums. Sometimes scheduled, sometimes cancelled, we don't really know what to do anymore.
Why not bring art right into your living room?
This is the concept that was thought with these giant envelopes, including 24 prints on paper and a simple hanging system.
From one work to another, we navigate between different feelings that we all felt during these months of confinement, a bit like a travel book… inside.
By acquiring your package, you will be able to set up the exhibition yourself and organize a mini-vernissage at home, thus nourishing your curiosity for contemporary art while respecting sanitary measures.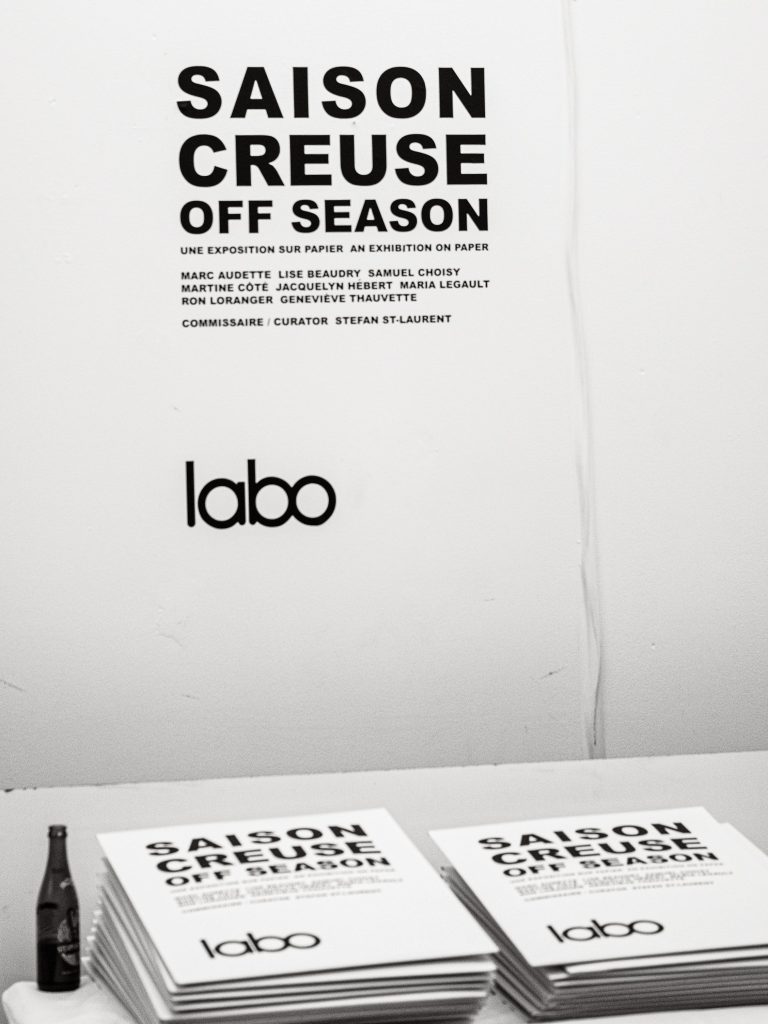 If you would like a giant envelope of the exhibition, please contact us at info@lelabo.ca.
The price of the publication is $15.
This exhibition/publication is the culmination of the 2-year Marketing mentorship program for mid-career Artists. Due to a pandemic, the program has been revised over and over again.
The first main objective of the mid-career mentorship program was to accompany 8 established and mid-career Franco-Ontarian media artists with the support of 4 expert consultants (Mona Filip of the Koffler Arts Center, Gaëlle Morel of the Ryerson Image Center, Gaëtane Verna of The Power Plant and Sarah Robayo Sheridan of The Art Museum). This included a complete review of their presentation materials, virtual studio tours, presentations addressing the artists' dissemination objectives, and gallery visits, guided by the experts.
After an exhibition and a residency were cancelled, we had to rethink the rest of the program. As a result, the group expressed interest in working with curator Stefan St Laurent (who has just produced the magazine FR with the AGAVF).
« More than looking for links between these eight artists, Stefan St Laurent brilliantly brings their works into a dialogue« 
---
THE ARTISTS OF THE GANG
Marc Audette
Lise Beaudry
Samuel Choisy
Martine Côté
Jacquelyn Hébert
Maria Legault
Ron Loranger
Geneviève Thauvette
---
This program and publication were made possible through the support of the Canada Council for the Arts (CCA).