For summer 2016, Le Labo partnering with Alliance Française de Toronto and Annex Photo & Digital Imaging, is pleased to present a day camp program for youth ages 9 to 14 wanting to discover the many techniques of photography, from analogue to digital… all in French!
Invented almost 200 years ago, photography is the first ever form of media art, a visual art image mediated by a machine. Animated by talented artists, youths will journey through educational activities that will bring a fresh perspective to photography and will change their perception of image creation for life!
Activities offered during the session include:
Experimenting with Light
Building a Pinhole Camera
Discover and Manipulate a Digital Camera
Studio Photography
Digital Photo Retouching
Light Painting and/or GIF images
We will host an exhibit to showcase the participant's work at the end of each session.
Five sessions are available for youth ages 9-14:
July 4-15
July 18-29
August 2-12
August 15-26
August 29-September 2
For camp rates and to register your child, please follow the links below:
Summer Camp Registration for French learners (French Second Language)
Summer Camp Registration for Francophones
---
About the animators:
Geneviève Thauvette
Geneviève Thauvette is an emerging Franco-Ontarian artist currently residing in Toronto. Her photographs have shown internationally, notably at the 17th Japan Media Arts Festival, the Perth International Arts Festival (Australia), the 2010 Vancouver Winter Olympic Games, and the Vie Jeux de la Francophonie in Beirut were she won the gold medal for Canada.
Her series Les quintuplées Dionne have been acquired by the Canadian Museum of Civilization and the City of Ottawa Fine Art Collection. She has also recently won the 2013 FlashForward emerging artists award and is the recipient of several grants, including the 2011 Emerging Artist Production Grant from the Ontario Arts Council.
Geneviève has presented many photo workshops and been a part of numerous juries. In 2012, she toured Canada, Haiti and St-Lucia to select the final participating artists during the VIIe Jeux de la Francophonie.
She was further chosen by L'Organization internationale de la francophonie to judge the photography competition during the games in Nice. Thauvette is represented by St-Laurent + Hill in Ottawa and Eye Buy Art.
Samuel Choisy
Samuel Choisy (b. 1974, France) is a photo-based visual artist. His work explores the notion of mental territory through different projects and formal approaches. His time-based creating process presents visual recording of situations lived or created. His work questions subjectivity and presents visual interpretations of the construction of an individual. His latest photographs combine dance, performance and light works. Choisy received a DNAP from l'École de l'Image d'Angoulême (1999) and a DNSEP from l'École des Beaux-Arts de Nantes (2001). in 2015, he obtained the Chalmers Arts Fellowship from the Ontario Arts Council. His work has been showcased in France and many European countries, as well as in the U.S. and Canada. He currently lives and works in Toronto.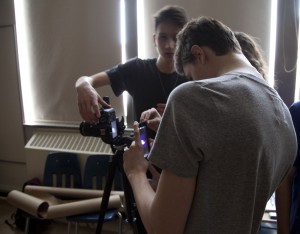 Photo credits : Workshops with Samuel Choisy, 2016 and Geneviève Thauvette, 2015.
For any question, contact Carolina Reis: info@lelabo.ca or 647-352-4411.
In partnership with: