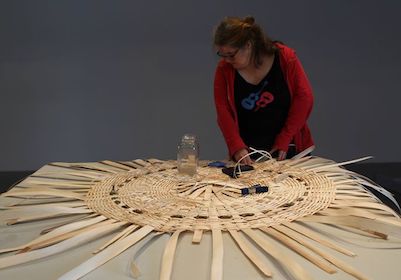 Sonia Robertson
Visual Artist
Sonia Robertson, an Ilnu from Mashteuiatsh, completed a Bachelor's degree in Interdisciplinary Art from the University of Quebec in Chicoutimi after her college studies in Photography. She has additional training in, for example, Butoh, raw materials, dance performance, and poetry and she recently completed a Masters in Art Therapy from the Université du Québec en Abitibi-Témiscamingue (UQAT).
Music and photography are her first means of expression. Among First Nations peoples, it is forbidden to take pictures during ceremonies because it is said that photography steals the soul of the subject. Robertson therefore uses the image in this way so that the works become the material trace of a lived spiritual experience with the subjects and spirits of a place. Her desires to use space, to create sacred places and to recreate atmospheres have led her to installation practices. In addition to making in-situ installations, Robertson's desires to cleanse, to find the essence and to bring people together, have led her to consider the body as a material or as a bearer of meaning which have led her to also work in performance/dance and relational aesthetics.
Her work often exists only for the places for which they are created. They are a moment or a period of time sometimes marked by repetition of a gesture and inspired by the women artisans of her community. Impressions of lightness and movement become communions/tensions between; shadows and light, body and spirit, matter and the hereafter. Sometimes political, healing and/or participatory, Robertson reflects on the respect for all life forms in her work. Her questioning looks at polarities, changes of perception, to the limits of space (place), materials (as immaterial) and the place of the First Nations in this world. Robertson has presented her works in her community, in various regions of Quebec and Canada as well as in France, Haiti, Mexico and Japan.