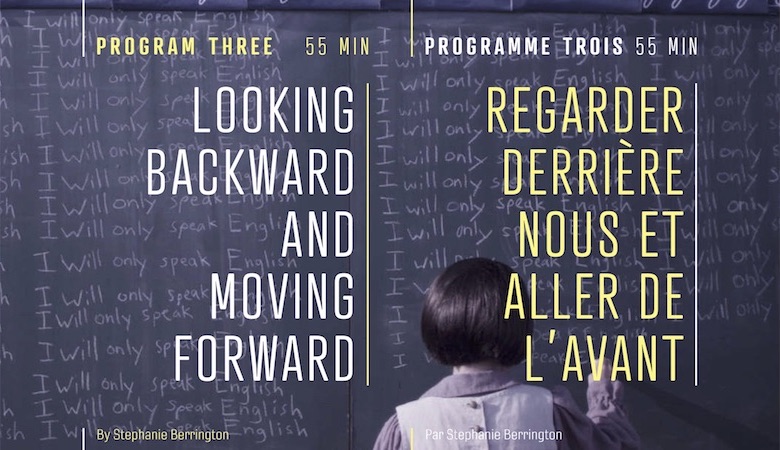 Image: A Common Experience de Shane Belcourt
Canadian Films for French Audiences – 55 minutes (films by Indigenous artists)

Thursday, June 6th 2019 6:30 pm
Free and open to all
Location: Le Labo, 401 rue Richmond St. ouest / West, Studio 277, Toronto ON M5V 3A8
Le Labo is pleased to present the Winnipeg Film Group's touring program. For the event, our programming committee chose films by Indegenous artists Looking backward and moving forward.
The screening will be followed by a discussion with Shane Belcourt (participating artist), Simon M. Bénédict and Jo Proulx (Labo members).
You will find more information on this link.
---
Shane Belcourt is an award-winning and two-time CSA-nominated filmmaker based in Toronto, Canada. As a writer and director on many Indigenous works, in both narrative and factual, Shane has a vested interested in creating works that speak to his Métis heritage. Notable work includes the feature film Tkaronto; shorts such as A Common Experience, Keeping Quiet, and Pookums; the dance-documentary Kaha:wi – The Cycle of Life (2015 CSA Best Direction Nomination); and two Historica Canada Minutes Chanie Wenjack and Naskumituwin (Treaty). Recent works include the award-winning 2018 CBC Firsthand documentary Indictment (co-directed with Lisa Jackson; 2017 imagineNATIVE Best Documentary), the music documentary series AMPLIFY for APTN (series creator, executive producer, and show-runner), and the dramatic feature Red Rover (co-writer, director). He is an alumna of the TIFF Talent Lab and NSI's Totally Television programs, and a member of the DGC. For more information on Shane Belcourt, check out his website.
Simon M. Benedict is an artist and translator of Franco-Québécois and Abenaki descent working with video, sound, still images, and text. His work combines audiovisual material and documents from various archives to examine how fictional and historical narratives inform and stem from our understanding of unmediated reality.
Simon M. Benedict holds an MFA in Studio Art from the University of Guelph (2016) and a BFA with major in photography from Concordia University, in Montreal (2011). His work has been exhibited in Canada, Europe, and the United States, including recently at Trinity Square Video (Toronto, 2019), YYZ Artists' Outlet (Toronto, 2018), Evans Contemporary (Peterborough, 2018), VU (Quebec City, 2018), Dazibao (Montreal, 2018), and NRW-Forum Düsseldorf (2018). He has participated in residencies at the National Film Board, Le Labo, Artscape Gibraltar Point, the Banff Centre, and Skol. He has received grants from the Canada Council for the Arts, the Ontario Arts Council, and the Toronto Arts Council. He is based in Toronto.
Born and raised in Quebec, Jo Proulx is a queer filmmaker of Indigenous ancestry living in Toronto. Jo has been involved in the Toronto French and Indigenous independent film communities since 2013. In 2018-2019, Jo served on the Charles Street Video Board of Directors as the organization moved in the newly built Toronto Media Arts Centre on Lisgard street. Jo studied languages and film in CEGEP. After completing law and computer science studies at University of Montreal (as well as film, photography, and advertising classes for the sake of her right brain!) Jo worked in the legal department at Malofilm (now Films Seville). She also briefly worked as a publicist for a charitable organization responsible for helping remote Indigenous communities in the Andes, the Ailes de l'Espérance/Wings of Hope/Alas de Esperanza. Jo then worked as a freelance journalist for several Montreal newspapers (La Presse, Journal Les Affaires, Maclean-Hunter, and Radio-Canada) and as a radio producer (CKUT-FM, CISM-FM, and CINQ-FM), covering the music and film scenes. In 2002, after stints as a technical writer and a high school computer science teacher, Jo opened two companies with her business partner: a translation agency that offered services in over 30 languages and employed 50 freelance translators, revisers, and graphic designers, and a small web hosting company in 2009. That same year, Jo wrote the Association of Translators and Interpreters of Ontario's National Exam and was amongst the 1% who passed the exam and became bona fides certified translators. After nearly a decade at the head of a translation agency, Jo missed her old love, film. Jo moved permanently to Toronto in 2012 to reconnect with the film industry. Jo is currently working on a documentary about the Indigenous diet and on a TV series.