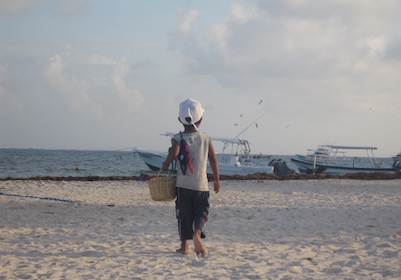 Sarah Kravetz
Filmmaking
Sarah Kravetz is a philanthropic filmmaker with over 13 years of distinctive production experience. With a Masters in Communications from Paris, she now documents intercultural stories and unity in Toronto.
Starting her worldwide adventure in her twenties, Canon in hand, she took pictures of kids with swags, moments of interactions around games and traditional rituals in 4 continents. Her career in the film and entertainment industry includes work as an Assistant Director, Artistic Coordinator and a Production and Stage Manager.
In Toronto, Sarah is inspired by the city's unique diversity and authentic cultures mixing in harmony. Her latest projects include The Land Owns You, a documentary film which follows a Toronto family living and raising their children in a tipi and Come Vibe with the Tribe about six international holistic practitioners who lived and worked together in a condo for a year. She is currently filming a band made of 4 musicians form 4 different countries who share their stories of love and struggles in their own musical and verbal language. Co-creating an anti-Islamophobia series called Meet Your Neighbour with the Intercultural Dialogue Institute, Sarah has a desire to bring awareness and harmony in intercultural communities. Interested in the power of live-streaming and web broadcasting to connect people in unique ways where she films and live streams events. As an art collector, she collaborates with self-taught artists on projects for the City of Toronto which shape the fabric of this inspiring city.