For its 15th anniversary program, under the theme: « Looking back to move forward », Le Labo launches the second event on its calendar of festivities:
UN TORONTO SITUATIONISTE
An open-air journey of performances to be discovered on Thursday, September 9, from 6:00 pm to 7:30 pm, thanks to the Toronto application Drifscape which will lead the public from place to place where we will have programmed happenings of francophone media artists.
Event Location:
Sorauren Park – Sorauren Park Town Square, Wabash Avenue, Toronto, ON, Canada
6:00 pm to 7:30 pm
Registration : Eventbrite
The Lab on Driftscape : https://driftscape.app.link/lelabo
---
THE PERFORMANCES
1st PERFORMANCE : « La locomotive débarque en ville » with Jean-Christophe Foolchand.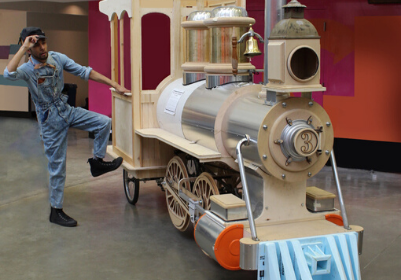 This performance is inspired by inventors of the past who unveiled their inventions to crowds. A long time ago, at a time when social networks did not exist, people were interested in and amazed by the works of inventors. Through his performance, Jean-Christophe will take us on a journey back in time to relive those magical moments. He will unveil his invention that he made with his own hands and will invite the audience to participate in his demonstration. An invention that looks like it was made in the past but is in fact a vehicle of the future.
Jean-Christophe is a French artist-inventor and video artist based in Toronto. With a varied cultural background and an atypical academic career, he has built a universe of his own over the years. Moreover, it is through the visual and media arts that he has been able to build his identity. Through video, he tells the story of his artistic inventions, his adventures and his discoveries. In his art, we find recurring themes such as the world of toys, the world of machines and the world of transportation. From a very young age, by observing and analyzing the things around him, he learns and tries to understand how they work. It is this innate attitude that allows him to know how things fit together.
2nd PERFORMANCE « French kiss : Adieu » with Maria Legault
The performance series French Kiss is inspired by the fairy tale The Princess and the Frog to represent the psychological impact of the artist's move from Quebec to Ontario. The princess is used as a symbol representing the reference group and the frog as a symbol of the Francophonie. The interactions between these two characters represent various facets of the artist's experience.
Previous paintings have explored the assimilation of the frog into a miniature aquarium, the transformation of the princess into a frog and the deterioration of the characters with whipped cream. With this final painting, the artist performs a ritual to mark the end of the French Kiss project. The costumes and props of the project will be buried in a park as a farewell gesture.
This performance is conceived as a metaphorical way to signal that the artist's identity is deeper and more fluid than the restrictive stereotypes imposed by the characters of the princess and the frog. This performance emanates from a reflection on the past; the French Kiss project that the artist studied during her doctoral studies. Through this performance the artist frees himself from this project and creates a fertile ground for the exploration of new ideas in the future. Beyond being significant to the artist's journey, this final performance of French Kiss pays homage to things that end. It looks at grief, transmutation and the rituals we use to mark our losses.
Maria Legault is a performance artist who has been hiding in paper bags, marrying a doll and repairing holes with pink icing. She holds a BFA from Concordia University, an MFA from the University of Guelph and a PhD in Art Studies and Practices from the Université du Québec à Montréal. Her work has been exhibited widely in Canada including Forest City Gallery, Inter-Access, Mercer Union, Nuit Blanche, Print Studio, Rodman Hall, Galerie Sans Nom, Galerie du Nouvel Ontario, Saw Gallery, Western Front and 7a11d as well as at the Castle of Imagination performance festival in Poland, Balkans Biennale in Serbia, Reinraum in Germany, Pow-Pow Performance Festival in the United States and at the Musée d'Art Moderne et Contemporain de Strasbourg in France. She received the Best Emerging Artist Award at the Untitled Art Awards in Toronto in 2005, the People's Choice Prize for Nuit Blanche in 2009 and grants from the Toronto, Ontario and Canada Arts Councils. She has worked in various artist-run centers and has been a cultural columnist for TFO's Panorama.
Artist profil – http://lelabo.ca/fr/membre/maria-legault/
3rd PERFORMANCE « Nostalgie du mouvement » with Julie Lassonde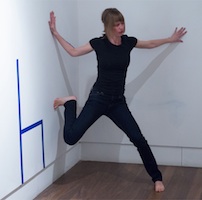 The artist's artistic approach is to reappropriate the public space restricted during the pandemic through the pleasure of movement.
Originally from Montreal, Julie Lassonde is a performance artist in visual and media arts. Trained in body mime, visual arts and law, Julie has presented solo performances and improvisations in Canada and internationally. Her work has been supported by the Ontario and Canada Arts Councils. From 2015 to 2016, she was the Chair of the Board of Directors of Le Labo in Toronto.
Artist profil – http://lelabo.ca/fr/membre/julie-lassonde-2/
---
Please note that events organized by Le Labo may be documented by photographs and videos. These images may be used by Le Labo for promotional, advertising and educational purposes.
By attending our events, you agree to allow Le Labo to document and use your image and likeness. However, if you do not want us to use a photo or video of you or your child, please feel free to let us know when you arrive at the event.
You can also contact the marketing and communication office of Le Labo: com@lelabo.ca